★★★
Zeller-Fusch 119, 5672 Fusch an der Glocknerstraße
53 ratings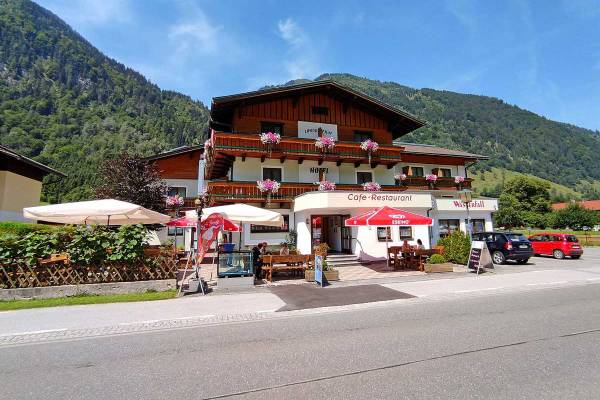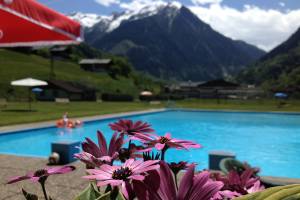 Highlights
holiday in family atmosphere
excellent cuisine with regional products
small sauna area in the house
National Park Summer Card included
Facilities
sauna
restaurant
parking spot
Wi-Fi
Categories
Skiing
Hiking
Holiday hotels
Location
Altitude: 811m
GPS coordinates: 47.223488 | 12.826333
Highway: A10/Bischofshofen/50km
Train station: Bruck/5km
Beach: Lake Zell/ca. 10km 

The hotel is located on the outskirts of Fusch on the Großglocknerstrasse, in the heart of the Hohe Tauern National Park. It is approx. 500m to the center with shopping and entertainment facilities.
As the name suggests, Fusch is located at the foot of the imposing Grossglockner Mountains and offers a wide range of sports for every taste. Beautiful hiking trails lead past idyllic waterfalls, over high alpine pastures and into the glacier world of the high mountains. Due to its location on the world-famous Grossglockner High Alpine Road, Fusch is also ideal for cycling and mountain biking tours. Lake Zell is about 10km away. The public outdoor pool in Fusch can be reached in about 5 minutes on foot. The wildlife park Ferleiten is in the immediate vicinity. On more than 15ha you can expect native wild animals such as u. Wolves, deer or chamois. The petting zoo with ponies, goats and much more is particularly interesting for children.
Facilities
The family-run hotel has the appearance of a traditional farmhouse from the outside, but inside you will find all modern conveniences.
In addition to genuine Salzburg hospitality, a charming entrance area with reception, a sunny guest garden and a rustic house bar await you. In the café-restaurant with several cozy lounges you can enjoy a large selection of regional and international dishes as well as game specialties from our own hunt. Most of the products come from local farms. A bicycle storage room, a lift, an e-charging station for electric cars and a large, free parking lot directly at the house complete the offer. Free Wi-Fi is available in the restaurant and in the rooms. Pets are not allowed.
Payable on site: local tax EUR 1,50 per person/night from the age of 15.
Rooms
The 27 comfortable rooms are equipped with light solid wood furniture and have a bathroom with shower/toilet and hair dryer, flat screen cable TV, safe and Wi-Fi. The rooms can also be in the neighboring building with the same equipment.
DS (2-2): Double room Cat. B, approx. 17m², without balcony.
DK (2-3): Double room Cat. A, approx. 19m², with balcony.
ES (1-1): Single room, approx. 15m², without balcony.
Meals
Half board: extensive breakfast buffet from 8.00 a.m. to 10.00 a.m., in the evening 3-course menu with choice of salad or theme buffet. 3 times a week (Monday, Wednesday and Friday) sweet or sour snack in the afternoon. 1 x weekly barbecue evening (depending on the weather). A glass of Prosecco for breakfast every day on request. Vegetarian, gluten and lactose-free menus on request.
Activities
Guided hikes in July & August as posted by the tourist office, National Park Summer Card included (see Mondial Plus for services).
For a fee: horse-drawn carriage rides.
Additional Costs
Obligatory supplement payable on spot: local tax (from 15 years) EUR 1,50 ppn.
Wellness
Use of the small wellness area with sauna, steam bath and infrared cabin during the opening hours as posted.
Children
Playground, homemade children's juices for dinner for children up to 11 years old.
Extras
10% early booking bonus for bookings made by 31.3.*)
10% early booking bonus for bookings made between 1.4.-30.4.*)
stay 7, pay 6 nights from 5.5.-23.6. & 2.9.-21.10.*)
10% discount on bike hire in Fusch
free entry to the Fusch outdoor pool from around June to August (depending on the weather)
National Park Summer Card included with
more than 60 attractions in the Hohe Tauern National Park holiday region
one attraction can be used free of charge every day
many hours of mountain and nature experiences & sports, culture and fun
free use of the Pinzgau local train and all SVV post buses between Krimml and Zell am See as well as Rauris
free use of all participating hiking taxis in the Hohe Tauern National Park holiday region
1 x per stay free ascent to the Grossglockner High Alpine Road and the Gerlos Alpine Road

 *) not combinable


The displayed information is valid from 5.5.- 21.10.2023




Check availability now
Show summer pricing table
Show winter pricing table
Price table Hotel Wasserfall ***
Price in EURO per person/night
2023
 
 
 
Code:
SAFSWA1
Min: 5.5.–8.7. & 27.8.–22.10. 2 nights,
9.7.–26.8. 3 nights
Meals
Occupancy
5.5.–17.5.
23.9.–20.10.
18.5.–7.7.
2.9.–22.9.
8.7.–1.9.
DS H
DBL Cat. B
HB
2–2
64
68
72
DK H
DBL Cat. A
HB
2–3
68
72
76
ES H
SGL
HB
1–1
75
79
83
Reduction/price in case of 2 full-paying guests in the extra bed:
0–2 years 100%, 3–5 years 90%, 6–11 years 50%, 12–14 years 30%, 15–99 years 10%
Discount:
overnight stay/breakfast: EUR 10,– ppn
Payable on spot:
local tax (from 15 years) EUR 1,50 ppn
Price table Hotel Wasserfall ***
Price in EURO per person/night
2023/24
 
 
 
 
 
 
Code:
SAFSWA1
Min: 8.12.–22.12. 2 nights, 
6.1.–26.1. & 9.3.–22.3. 3 nights,
27.1.–2.2., 2.3.–8.3. & 23.3.–30.3. 4 nights,
23.12.–29.12. 5 nights,
30.12.–5.1. & 3.2.–1.3. 7 nights/arrival SAT 
Meals
Occupancy
8.12.–22.12.
23.12.–29.12.
30.12.–5.1.
6.1.–26.1.
9.3.–22.3.
27.1.–2.2.
2.3.–8.3.
23.3.–30.3.
3.2.–1.3.  
DS H
DBL Cat. B
HB
2–2
59
71
81
65
68
71
DK H
DBL Cat. A
HB
2–3*
61
75
85
68
71
75
ES H
SGL
HB
1–1
69
83
91
73
79
83
Reduction in case of 2 full-paying guests in the extra bed:
0–2 years 100%, 3–5 years 90%, 6–11 years 50%, 12–14 years 30%, 15–99 years 10%;
* max. 2 adults + 1 child up to 14 years
Payable on spot:
local tax (from 15 years) EUR 1,50 ppn