Dolomiten Residenz Sporthotel Sillian **** Superior
★★★★
Dolomiten Residenz Sporthotel Sillian **** Superior
Nr. 49d, 9920 Sillian
129 ratings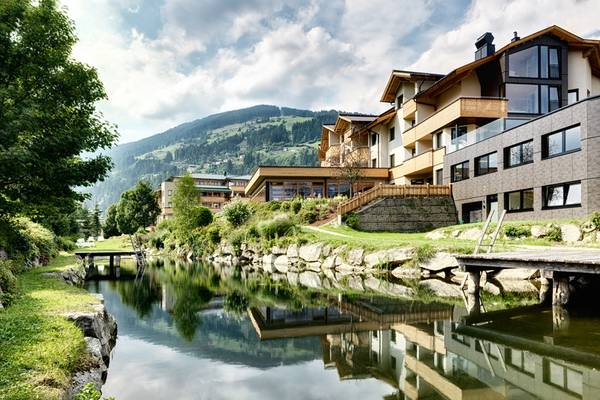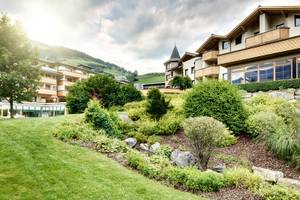 Highlights
directly in the cycling and hiking paradise of Hochpustertal
wellness area on over 3,000m² with indoor pool and heated outdoor pool
extensive childcare in the children's club
Facilities
slope
sauna
parking spot
garden/park
indoor pool
outdoor pool
fitness
bicycle rental
free train station transfer
seminar room
Wi-Fi
pets welcome
Categories
Children
Spa
Skiing
Cross-country skiing
Snowshoeing
Ski tour
Fitness
Hiking
Bike
Golf
Holiday hotels
Location
Altitude: 1.103m
GPS coordinates: latitude: 46.747435/longitude: 12.421015
Highway: A10/Knoten Spittal/99km
Train station: Sillian/1km 

The Dolomiten Residenz Sporthotel Sillian ****S. is nestled between the Dolomites in East Tyrol's Puster Valley, just a few kilometers from the Italian border. The center of Sillian is about 1km away. The entrance to the family-friendly Drau cycle path and the valley station of the gondola lift to the Hochpustertal hiking paradise are right next to the hotel.
Sillian's local mountain, the Thurntaler, is a holiday paradise in summer for active holidaymakers and those seeking peace and quiet. Families with children appreciate the easy climb to the imposing 3 lakes. Located on the beautiful Drau and at the beginning of the Drau Cycle Path, Sillian is also the starting point for cycling trips to Italy or to the district capital of Lienz, 30 km away. Mountain bikers strive for "higher goals" in the Lienz and Sesto Dolomites. In the vicinity of the Dolomiten Residenz alone, cycling fans will find a 70 km long network of paths. Thanks to its great offer, the Hochpustertal can call itself the most family-friendly valley in East Tyrol. A special tip is the "Gnome Park" in Sillian with mini golf, gnome train, high ropes course, spectacular 30m long tube slide, water play area and much more.
Facilities
The popular family wellness hotel is a successful mixture of Tyrolean down-to-earthness and southern Italian flair. A spacious reception area with reception, a lounge, a cozy farmhouse parlour, a hotel bar, a winter garden and a seminar room await you in a family atmosphere. The light-flooded hotel restaurant with a wonderful breakfast terrace serves you excellent delicacies, with the focus on traditional regional cuisine. The panoramic sun terrace and the spacious garden with a natural bathing pond and a sunbathing lawn with loungers and parasols ensure hours of relaxation.
Elevators and free parking spaces with e-charging station available. You can use Wi-Fi in the whole hotel for free.
Payable on site: dog EUR 25,- per night (max 1 dog per room).
Rooms
Trendy and cosy, in a relaxing ambience and just to feel good - this is how the 100 rooms and suites present themselves in a modern style with shower, toilet, hair dryer, bathrobe and house slippers, telephone, radio, satellite TV, safe and WLAN as well as mostly a balcony.
DS (2-2): Residence double room, approx. 25m².
DF (2-4): Country living family room, approx. 35m², bedroom with sofa bed.
OS (2-4): Studio Dolomiten, approx. 45m², 2 separate bedrooms with a connecting door.
ES (1-1): Residence double room for single use.
Meals
Gourmet half-board: rich East Tyrolean specialty breakfast buffet, afternoon snacks with soups, East Tyrolean delicacies and cake specialties from 2pm to 4pm, 5-course gourmet menu or regional and international buffets including a salad bar in the evening. Fresh East Tyrolean mountain water from the drinking water fountain all day long. Diet or light food on request.
Activities
Activity program with barefoot hikes, stretching, aqua fitness and Nordic walking, rental of hiking backpacks and hiking poles.
Golf
Golfers in the Dolomiten Golf Club Lienz, about 40 minutes by car from the hotel, have dream views in front of their eyes. At the foot of the breathtaking scenery of the Lienz Dolomites in Lavant is one of the most beautiful 27-hole championship courses in Austria with various unmistakable 18-hole course variants. Beginners and advanced skiers will find ideal conditions here. The practice facility with open and covered tees, sand bunker, chipping and putting green offers the best training opportunities.
Wellness
The more than 3,000m² large wellness area with pool area with indoor pool and outdoor pool as well as a sauna area with East Tyrolean organic sweat room, mountain pine block sauna in the outdoor area, herbal bath, knight's steam bath, salt stone grotto, Kneipp pool, adventure showers and spacious relaxation rooms with water beds and open fireplace promises relaxation. A modern panoramic fitness center with TechnoGym equipment ensures physical training.
For a fee: massages, beauty and health treatments with natural cosmetics, health baths.
Children
Professional child care in the Häppi Päpi children's club from 3 years of age from Sunday to Friday from 9 a.m. to 9 p.m. with a varied program and teen program for kids from 12 years of age with indoor and outdoor activities, light-flooded children's playroom (approx. 100m²) with direct access to the terrace and hotel lobby, teen meeting place, new natural playground with stilt forest, slide, sand play area and play hill, own children's indoor pool with giant slide and baby pool, children's menu or children's buffet in the evening.
Extras
10% early booking bonus from 4 nights if you book by 30.4.
free transfer from/to the train station Lienz & Sillian upon prior notification
Osttirol summit ticket included with unlimited ascent & descent on the Hochpustertal-Sillian, Kals-Matrei, & St. Jakob cable cars (cable car operation according to the timetable)
free travel on public transport with a valid guest card
green fee reduction at the Dolomiten Golf Club Lienz
 
The displayed information is valid from 17.5. - 5.11.2023
 
  


Check availability now
Show summer pricing table
Show winter pricing table
Price table Dolomiten Residenz Sporthotel Sillian **** Superior
Price in EURO per person/night
2023
 
 
 
Code:
TISISS1
Min: 17.5.–30.6. & 2.9.–4.11. 2 nights, 1.7.–14.7. & 20.8.–1.9. 4 nights,
15.7.–19.8 7 nights/arrival SAT or SUN
Meals
Occupancy
17.5.–30.6.
1.7.–1.9.
2.9.–4.11.
DS H
DBL Residenz
HB
2–2
115
139
115
DF H
FamDBL Landleben
HB
2–4*
125
152
125
OS H
Studio Dolomiten
HB
2–4*
149
178
149
ES H
DBL Residenz single use
HB
1–1
155
179
155
Reduction/price in case of 2 full-paying guests in the extra bed:
0–2 years 100%, 3–5 years EUR 45,–, 6–14 years 50%; * max. 2 adults + 2 children up to 14 years
Supplement:
short stay of 1–3 nights: EUR 10,–, children 6–14 years EUR 5,– ppn, no supplement for children up to 5 years
Price table Dolomiten Residenz Sporthotel Sillian **** Superior
Price in EURO per person/night
2023/24
Code: TISISS1
Min: 23.12.–5.1. 7 nights/arrival SAT, 3.2.–9.2.,
17.2.–8.3. & 23.3.–1.4. 4 nights,
10.2.–16.2. 6 nights/arrival SAT or SUN
Meals
Occupancy
7.12.–22.12.
6.1.–2.2.
23.12.–5.1.
3.2.–8.3.
23.3.–31.3.
9.3.–22.3.
DS H
DBL Residenz
HB
2–2
154
233
175
154
DF H
FamDBL Landleben
HB
2–4*
165
259
198
165
OS H
Studio Dolomiten
HB
2–4*
226
308
255
226
ES H
SGL Residenz
HB
1–1
194
273
215
194
Reduction in case of 2 full-paying guests in the extra bed:
0–2 years 100%, 3–5 years EUR 45,–, 6–14 years 50%; * max. 2 adults + 2 children up to 14 years
Supplement:
short stay of 1–3 nights from 7.12.–22.12., 6.1.–2.2. & 9.3.–22.3.
or on request from 3.2.–8.3. & 23.3.–1.4.: EUR 10,–, 6–17 years EUR 5,– ppn;
Christmas gala (obligat.) on 25.12.: EUR 68,–;
New Year's Eve gala (obligat.) on 31.12.: EUR 108,–, children 6–14 years each 50% reduction, no supplement for children up to 5 years